Responses of plants and ecosystems to global environmental change
Physiological Plant Ecology
Plants are fundamental components of the earth system. Their ability to assimilate atmospheric CO2 and to transpire H2O drives the biogeochemical cycles in ecosystems and determines as such the provision of ecosystem goods and services that we as people depend on. In the Physiological Plant Ecology Group at ETH Zurich we investigate the physiological responses of plants to their environmental in order to understand how plants govern the function of ecosystems in a changing world. Our research operates at different scales that range from the leaf to the landscape level and links plant ecophysiology to plant population dynamics and ecosystem biogeochemistry.
Recent Publications
Lack of hydraulic recovery as a cause of post-drought foliage reduction and canopy decline in European beech
Arend, Matthias; Link, Roman Mathias; Zahnd, Cedric; Hoch, Guenter; Schuldt, Bernhard; et al.
New Phytologist 10.1111/nph.18065 MAY 2022
Mechanisms of woody-plant mortality under rising drought, CO2 and vapour pressure deficit
McDowell, Nate G.; Sapes, Gerard; Pivovaroff, Alexandria; Adams, Henry D.; Allen, Craig D.; et al.
Nature Reviews Earth & Environment 10.1038/s43017-022-00272-1 MAY 2022
Number of growth days and not length of the growth period determines radial stem growth of temperate trees
Etzold, Sophia; Sterck, Frank; Bose, Arun K.; Braun, Sabine; Buchmann, Nina; Eugster, Werner; Gessler, Arthur; Kahmen, Ansgar; Peters, Richard L.; Vitasse, Yann; Walthert, Lorenz
Ecology Letters 10.1111/ele.13933 DEC 2021
Effects of phenotypic variability on the oxygen and hydrogen isotope compositions of grains in different winter wheat varieties
Cueni, Florian; Nelson, Daniel B.; Kahmen, Ansgar
Isotopes In Environmental And Health Studies 10.1080/10256016.2021.2002855 NOV 2021
TreeNet – The Biological Drought and Growth Indicator Network
Zweifel, R; Etzold, S; Basler, D; Bischoff, R; Braun, S; Buchmann, N; Conedera, M; Fonti, P; Gessler, A; Haeni, M; Hoch, G; Kahmen, A; Kochli, R; Maeder, M; Nievergelt, D; Peter, M; Peters, RL; Schaub, M; Trotsiuk, V; Walthert, L; Wilhelm, M; Eugster, W
Frontiers In Forests And Global Change 10.3389/ffgc.2021.776905 NOV 4 2021
Climate Change Modulates Multitrophic Interactions Between Maize, A Root Herbivore, and Its Enemies
Guyer, Anouk; van Doan, Cong; Maurer, Corina; Machado, Ricardo A. R.; Mateo, Pierre; Steinauer, Katja; Kesner, Luci; Hoch, Guenter; Kahmen, Ansgar; Erb, Matthias; Robert, Christelle A. M.
Journal Of Chemical Ecology, 10.1007/s10886-021-01303-9, NOV 2021
Metabolic exchange between pathways for isoprenoid synthesis and implications for biosynthetic hydrogen isotope fractionation
Ladd, S. Nemiah; Nelson, Daniel B.; Bamberger, Ines; Daber, L. Erik; Kreuzwieser, Juergen; et al.
New Phytologist 10.1111/nph.17510 SEP 2021
Dynamic H-2 irrigation pulse labelling reveals rapid infiltration and mixing of precipitation in the soil and species-specific water uptake depths of trees in a temperate forest
Kahmen, Ansgar; Buser, Till; Hoch, Guenter; Grun, Georges; Dietrich, Lars
Ecohydrology 10.1002/eco.2322 SEP 2021
Carbon isotope composition of plant photosynthetic tissues reflects a Crassulacean Acid Metabolism (CAM) continuum in the majority of CAM lineages
Messerschmid, Thibaud F. E.; Wehling, Judith; Bobon, Nadine; Kahmen, Ansgar; Klak, Cornelia; Los, Jessica A.; Nelson, Daniel B.; dos Santos, Patricia; de Vos, Jurriaan M.; Kadereit, Gudrun
Perspectives In Plant Ecology Evolution And Systematics 10.1016/j.ppees.2021.125619 AUG 2021
Using plant physiological stable oxygen isotope models to counter food fraud
Cueni, Florian; Nelson, Daniel B.; Boner, Markus; Kahmen, Ansgar
Scientific Reports 10.1038/s41598-021-96722-9 AUG 27 2021
Precipitation isotope time series predictions from machine learning applied in Europe
Nelson, Daniel B.; Basler, David; Kahmen, Ansgar
Proceedings Of The National Academy Of Sciences Of The United States Of America 10.1073/pnas.2024107118 JUN 29 2021
Soil nutrient availability alters tree carbon allocation dynamics during drought
Schonbeck, Leonie; Li, Mai-He; Lehmann, Marco M.; Rigling, Andreas; Schaub, Marcus; Hoch, Gunter; Kahmen, Ansgar; Gessler, Arthur
Tree Physiology 10.1093/treephys/tpaa139 MAY 2021
Rapid hydraulic collapse as cause of drought-induced mortality in conifers
Arend, Matthias; Link, Roman M.; Patthey, Rachel; Hoch, Gunter; Schuldt, Bernhard; Kahmen, Ansgar
Proceedings Of The National Academy Of Sciences Of The United States Of America 10.1073/pnas.2025251118 APR 20 2021
Past and future snowmelt trends in the Swiss Alps: the role of temperature and snowpack
Vorkauf, Maria; Marty, Christoph; Kahmen, Ansgar; Hiltbrunner, Erika
Climatic Change 10.1007/s10584-021-03027-x Published: APR 2021
Flowering phenology in alpine grassland strongly responds to shifts in snowmelt but weakly to summer drought
Vorkauf, Maria; Kahmen, Ansgar; Korner, Christian; Hiltbrunner, Erika
Alpine Botany 10.1007/s00035-021-00252-z Published: APR 2021
On the use of leaf water to determine plant water source: A proof of concept
Benettin, Paolo; Nehemy, Magali F.; Cernusak, Lucas A.; Kahmen, Ansgar; McDonnell, Jeffrey J.
Hydrological Processes 10.1002/hyp.14073 Published: MAR 2021
Timing of drought in the growing season and strong legacy effects determine the annual productivity of temperate grasses in a changing climate
Hahn, Claudia; Luscher, Andreas; Ernst-Hasler, Sara; Suter, Matthias; Kahmen, Ansgar
Biogeosciences, 10.5194/bg-18-585-2021 JAN 27 2021
…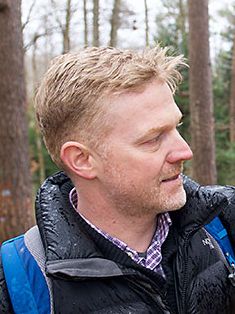 Prof. Dr. Ansgar Kahmen
University of Basel
Dept of Environmental Sciences
4056 Basel
Tel: +41 (0)61 207 35 71
Links
Research topics
The responses of plants and ecosystems to environmental change
Biological archives as long-term indicators for the effects of environmental change on plants and ecosystems
The effects of plant diversity for ecosystem functions
Competition and complementary use of nutrients by plants and microbes
Development of stable isotope tools for ecological research
Interdisciplinary
The stable isotope composition of plant-derived biomarkers for paleohydrological research