Developmental cell biology of plants
One of our main topics of interest is the study of endodermis as an invariant feature of vascular plants. It fulfils a crucial barrier function separating the extracellular space of outer cell layers from the inner apoplastic space of the vascular bundles. The "Casparian strip" has been defined as an area where endodermal cells secrete hydrophobic material in a highly localised and coordinated fashion to act as a barrier. The Casparian strip is composed of a ligno-suberic polymer, which forms an extensive, supra-cellular network.
We demonstrate that there is no lateral diffusion across the Casparian Strip Domain (CSD) between outer and inner plasma membrane domains and we have identified transporters that localise to one or the other membrane region, depending on their function in uptake or efflux of nutrients. In addition we identified a new class of proteins that mark and predict the formation of the CSD. We will investigate the mechanisms underlying the formation of the Casparian Strip sub-domain on cellular surface and the localisation of proteins to either its central or peripheral side.
Recent Publications
A peptide-mediated, multilateral molecular dialogue for the coordination of pollen wall formation
Truskina, Jekaterina; Bruck, Stefanie; Stintzi, Annick; Boeuf, Sophy; Doll, Nicolas M.; et al.
Proceedings Of The National Academy Of Sciences Of The United States Of America 10.1073/pnas.2201446119 MAY 31 2022
Mind the gaps: secrets of signalling specificity
Ma, Y.; Emonet, A.; Fujita, S.; Geldner, N.
Febs Open Bio (12): 207-208, SI Meeting AbstractP-03.4-019
The making of suberin
Serra, Olga; Geldner, Niko
New Phytologist 10.1111/nph.18202 AUG 2022
Analysis of exocyst function in endodermis reveals its widespread contribution and specificity of action
Hematy, Kian; De Bellis, Damien; Wang, Xin; Mahonen, Ari Pekka; Geldner, Niko
Plant Physiology 10.1093/plphys/kiac019 JUN 1 2022
Extracellular vesiculo-tubular structures associated with suberin deposition in plant cell walls
De Bellis, Damien; Kalmbach, Lothar; Marhavy, Peter; Daraspe, Jean; Geldner, Niko; et al.
Nature Communications 10.1038/s41467-022-29110-0 MAR 18 2022
CASP microdomain formation requires cross cell wall stabilization of domains and non-cell autonomous action of LOTR1
Kolbeck, Andreas; Marhavy, Peter; De Bellis, Damien; Li, Baohai; Kamiya, Takehiro; et al.
Elife, 10.7554/eLife.69602 JAN 14 2022
Combined fluorescent seed selection and multiplex CRISPR/Cas9 assembly for fast generation of multiple Arabidopsis mutants
Ursache, Robertas; Fujita, Satoshi; Denervaud Tendon, Valerie; Geldner, Niko
Plant Methods 10.1186/s13007-021-00811-9 OCT 30 2021
Coordination of microbe-host homeostasis by crosstalk with plant innate immunity
Ma, Ka-Wai; Niu, Yulong; Jia, Yong; Ordon, Jana; Copeland, Charles; et al.
Nature Plants 10.1038/s41477-021-00920-2 JUN 2021
Two chemically distinct root lignin barriers control solute and water balance
Reyt, Guilhem; Ramakrishna, Priya; Salas-Gonzalez, Isai; Fujita, Satoshi; Love, Ashley; et al.
Nature Communications 10.1038/s41467-021-22550-0 APR 19 2021
Tissue-Autonomous Phenylpropanoid Production Is Essential for Establishment of Root Barriers
Andersen, Tonni Grube; Molina, David; Kilian, Joachim; Franke, Rochus B.; Ragni, Laura; et al.
Current Biology 10.1016/j.cub.2020.11.070 Published: MAR 8 2021
Signatures of antagonistic pleiotropy in a bacterial flagellin epitope
Parys, Katarzyna; Colaianni, Nicholas R.; Lee, Ho-Seok; Hohmann, Ulrich; Edelbacher, Natalie; et al.
Cell Host & Microbe 10.1016/j.chom.2021.02.008 Published: APR 14 2021
GDSL-domain proteins have key roles in suberin polymerization and degradation
Ursache, Robertas; Teixeira, Cristovao De Jesus Vieira; Tendon, Valerie Denervaud; Gully, Kay; De Bellis, Damien; Schmid-Siegert, Emanuel; Andersen, Tonni Grube; Shekhar, Vinay; Calderon, Sandra; Pradervand, Sylvain; Nawrath, Christiane; Geldner, Niko; Vermeer, Joop E. M
Nature Plants 10.1038/s41477-021-00862-9 Published: MAR 2021
Spatially Restricted Immune Responses Are Required for Maintaining Root Meristematic Activity upon Detection of Bacteria
Emonet, Aurelia; Zhou, Feng; Vacheron, Jordan; Heiman, Clara Margot; Tendon, Valerie Denervaud; et al.
Current Biology 10.1016/j.cub.2020.12.048 Published: MAR 8 2021
Plant roots employ cell-layer-specific programs to respond to pathogenic and beneficial microbes
Froschel, Christian; Komorek, Jaqueline; Attard, Agnes; Marsell, Alexander; Lopez-Arboleda, William A.; et al.
Cell Host & Microbe 10.1016/j.chom.2020.11.014 Published: FEB 10 2021
High-order mutants reveal an essential requirement for peroxidases but not laccases in Casparian strip lignification
Rojas-Murcia, Nelson; Hematy, Kian; Lee, Yuree; Emonet, Aurelia; Ursache, Robertas; Fujita, Satoshi; De Bellis, Damien; Geldner, Niko
Proceedings Of The National Academy Of Sciences Of The United States Of America 10.1073/pnas.2012728117 Nov 2020
SCHENGEN receptor module drives localized ROS production and lignification in plant roots
Fujita, Satoshi; De Bellis, Damien; Edel, Kai H.; Koester, Philipp; Andersen, Tonni Grube; Schmid-Siegert, Emanuel; Tendon, Valerie Denervaud; Pfister, Alexandre; Marhavy, Peter; Ursache, Robertas; Doblas, Veronica G; Barberon, Marie; Daraspe, Jean; Creff, Audrey; Ingram, Gwyneth; Kudla, Joerg; Geldner, Niko
Embo Journal DOI: 10.15252/embj.2019103894 MAR 2020
A two-way molecular dialogue between embryo and endosperm is required for seed development
Doll, N. M.; Royek, S.; Fujita, S.; Okuda, S.; Chamot, S.; Stintzi, A; Widiez, T; Hothorn, M; Schaller, A; Geldner, N; Ingram, G
Science 367(6476): 431-+ SI DOI: 10.1126/science.aaz4131 JAN 24 2020
Co-incidence of Damage and Microbial Patterns Controls Localized Immune Responses in Roots
Zhou, Feng; Emonet, Aurelia; Tendon, Valerie Denervaud; Marhavy, Peter; Wu, Dousheng; Lahaye, Thomas; Geldner, Niko
Cell 180(3): 440-+ DOI: 10.1016/j.cell.2020.01.013 FEB 6 2020
Molecular mechanism for the recognition of sequence-divergent CIF peptides by the plant receptor kinases GSO1/SGN3 and GSO2
Okuda, Satohiro; Fujita, Satoshi; Moretti, Andrea; Hohmann, Ulrich; Doblas, Veronica G.; Ma, Y; Pfister, A; Brandt, B; Geldner, N; Hothorn, M
Proceedings Of The National Academy Of Sciences Of The United States Of America, 10.1073/pnas.1911553117, FEB 4 2020
Root endodermal barrier system contributes to defence against plant-parasitic cyst and root-knot nematodes
Holbein, J; Franke, RB; Marhavy, P; Fujita, S; Gorecka, M; Sobczak, M; Geldner, N; Schreiber, L; Grundler, FMW; Siddique, S
PLANT JOURNAL, 10.1111/tpj.14459 Published: OCT 2019
…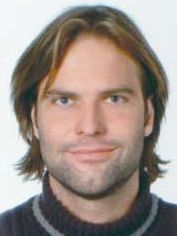 Prof. Dr. Niko Geldner
University of Lausanne
Department of Plant Molecular Biology
1015 Lausanne
Tel: +41 21 692 4192
Links
Research topics
The root endodermis as a polar epithelium
Receptor trafficking in plants
Waves lines: Mapping the complexity of the plant membrane system
Interdisciplinary
WAVE lines: a set of fluorescent markers for plant membrane compartments
The pNIGEL recombination vector series
Live cell imaging
Forward and reverse genetic screens
Proteomic approaches