Plant-animal interactions and ecosystem function
The ecology of plant reproductive processes underlies the composition and dynamics of ecosystems and is essential for the viability of human food production systems. Yet rapid and widespread environmental changes disrupt processes such as pollination, seed dispersal and seedling establishment and growth.
Our group explores changes in plant reproductive processes at scales ranging from genes to landscapes, and evaluates the implications of such changes for natural and human-dominated ecosystems. Impacts of habitat fragmentation on pollination, gene flow and population viability is a research theme that transcends both human-dominated and natural systems through its relevance to plant conservation and crop productivity, while alpine plant reproductive responses to climate change is a theme that has particular resonance in Switzerland. Our research encompasses both temperate and tropical regions, and our research also addresses the environmental constraints and opportunities that people face in managing their resources and livelihoods in the tropics.
Recent Publications
Dung beetles as hydrological engineers: effects of tunnelling on soil infiltration
Keller, Nadine; van Meerveld, Ilja; Ghazoul, Jaboury; Chiew, Li Yuen; Philipson, Christopher D.; et al.
Ecological Entomology 10.1111/een.13094 OCT 2021
Occurrence of tick-borne pathogens in questing Ixodes ricinus ticks from Wester Ross, Northwest Scotland
Olsthoorn, Fanny; Sprong, Hein; Fonville, Manoj; Rocchi, Mara; Medlock, Jolyon; et al.
Parasites & Vectors 10.1186/s13071-021-04946-5 AUG 26 2021
Choices We Make in Times of Crisis
Waeber, Patrick O.; Stoudmann, Natasha; Langston, James D.; Ghazoul, Jaboury; Wilme, Lucienne; Sayer, Jeffrey; Nobre, Carlos; Innes, John L.; Fernbach, Philip; Sloman, Steven A.; Garcia, Claude A.
Perceptions from non-governmental actors on forest and landscape restoration, challenges and strategies for successful implementation across Asia, Africa and Latin America
Schweizer, Daniella; van Kuijk, Marijke; Ghazoul, Jaboury
Journal Of Environmental Management 10.1016/j.jenvman.2021.112251 Published: MAY 15 2021
The Agrarian, Structural and Cultural Constraints of Smallholders' Readiness for Sustainability Standards Implementation: The Case of Indonesian Sustainable Palm Oil in East Kalimantan
Dharmawan, Arya Hadi; Mardiyaningsih, Dyah Ita; Rahmadian, Faris; Yulian, Bayu Eka; Komarudin, Heru; et al.
Sustainability 10.3390/su13052611 Published: MAR 2021
Living with floating vegetation invasions
Kleinschroth, Fritz; Winton, R. Scott; Calamita, Elisa; Niggemann, Fabian; Botter, Martina; et al.
Ambio 10.1007/s13280-020-01360-6 JAN 2021
…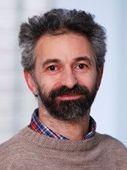 Prof. Dr. Jaboury Ghazoul
ETH Zurich
Institute of Terrestrial Ecosystems
8092 Zurich
Tel: +41 (0)44 632 86 30
Research topics
Plant conservation biology
Gene flow and plant genetic diversity
Plant-pollinator interactions
Plant-mycorrhiza interactions
Ecological processes underlying crop productivity
Interdisciplinary
Ecosystem services
Conservation biology
Human livelihoods
Management of landscape mosaics