Regulation of growth, nutrition, and symbiosis in plants
Molecular Plant-Microbe interactions, Plant Nutrition
In symbiotic interactions with arbuscular mycorrhizal (AM) fungi, the plant attracts the microbial partner with chemical signals. Once the fungus has reached the root surface, the plant helps it to invade and colonize epidermal cells. The mechanisms involved in intracellular accommodation of the endosymbiont, and in the elaboration of the symbiotic machinery remain elusive.
In addition to its promotive mechanisms, the plant has also means to limit the extent of colonization by AM fungi if it is well supplied with nutrients, in particular with phosphate. We are taking a forward genetic approach to identify components involved in establishing and limiting AM symbiosis.
A second project addresses the integration of nutritional and biophysical mechanisms in the regulation of plant growth. Here we seek to identify the limiting components of growth in terms of mineral nutrient acquisition, photosynthesis and transport within the plant. This information is used to build mathematical models of resource partitioning and growth, and of the biophysics of cell expansion in plants.
Recent Publications
Phosphate Suppression of Arbuscular Mycorrhizal Symbiosis Involves Gibberellic Acid Signaling
Nouri, Eva; Surve, Rohini; Bapaume, Laure; Stumpe, Michael; Chen, Min; et al.
Plant And Cell Physiology 10.1093/pcp/pcab063 JUN 2021
VAPYRIN attenuates defence by repressing PR gene induction and localized lignin accumulation during arbuscular mycorrhizal symbiosis of Petunia hybrida
Chen, Min; Bruisson, Sebastien; Bapaume, Laure; Darbon, Geoffrey; Glauser, Gaetan; et al.
New Phytologist, 10.1111/nph.17109 MAR 2021
Silica nanoparticles enhance disease resistance in Arabidopsis plants
El-Shetehy, Mohamed; Moradi, Aboubakr; Maceroni, Mattia; Reinhardt, Didier; Petri-Fink, Alke; et al.
Nature Nanotechnology, 10.1038/s41565-020-00812-0, MAR 2021
Lineage-Specific Genes and Cryptic Sex: Parallels and Differences between Arbuscular Mycorrhizal Fungi and Fungal Pathogens
Reinhardt, Didier; Roux, Christophe; Corradi, Nicolas; Di Pietro, Antonio
Trends In Plant Science, 10.1016/j.tplants.2020.09.006 FEB 2021
VAPYRIN-like is required for development of the moss Physcomitrella patens
Rathgeb, Ursina; Chen, Min; Buron, Flavien; Feddermann, Nadja; Schorderet, Martine; et al.
Development DOI: 10.1242/dev.181762 Published: JUN 2020
LCO Receptors Involved in Arbuscular Mycorrhiza Are Functional for Rhizobia Perception in Legumes
Girardin, Ariane; Wang, Tongming; Ding, Yi; Keller, Jean; Buendia, Luis; et al.
Current Biology, DOI: 10.1016/j.cub.2019.11.038, DEC 16 2019
VAPYRIN Marks an Endosomal Trafficking Compartment Involved in Arbuscular Mycorrhizal Symbiosis
Bapaume, L; Laukamm, S; Darbon, G; Monney, C; Meyenhofer, F; Feddermann, N; Chen, M; Reinhardt, D
FRONTIERS IN PLANT SCIENCE, 10 10.3389/fpls.2019.00666 JUN 4 2019
Beneficial Services of Arbuscular Mycorrhizal Fungi - From Ecology to Application
Chen, M; Arato, M; Borghi, L; Nouri, E; Reinhardt, D
FRONTIERS IN PLANT SCIENCE, 9 10.3389/fpls.2018.01270 SEP 4 2018
Deregulation of MADS-box transcription factor genes in a mutant defective in the WUSCHEL-LIKE HOMEOBOX gene EVERGREEN of Petunia hybrida
Schorderet, M; Muni, RRD; Fiebig, A; Reinhardt, D
PLANT SIGNALING & BEHAVIOR, 13 (6):10.1080/15592324.2018.1471299 2018
…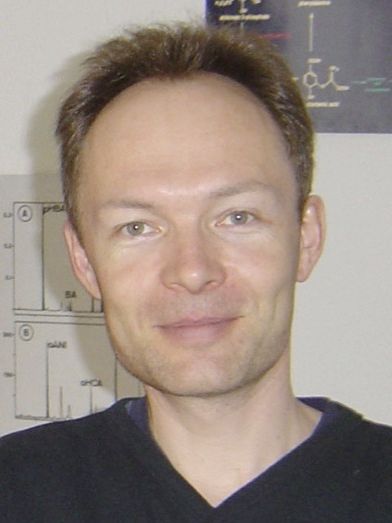 Prof. Dr. Didier Reinhardt
University of Fribourg
Department of Biology
1700 Fribourg
Tel: +41 (0)26 300 88 18
Links
Research topics
Symbiotic signaling
Intracellular accommodation of endosymbionts
Nutritional regulation of growth and symbiosis
Interdisciplinary
Mathematical modeling of growth
Sequencing of the petunia genome
Transcriptomic analysis of AM symbiosis in petunia