400 Years Botanical Collections – Conference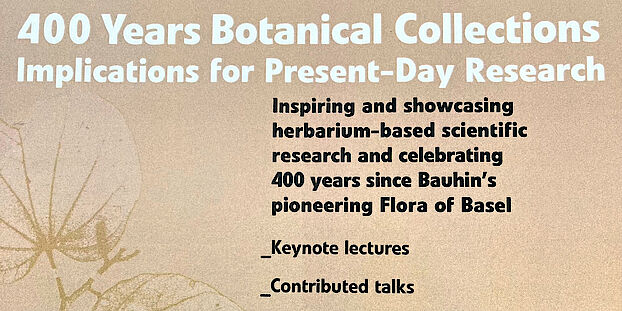 Bauhin symposium, Basel University, Basel, Switzerland, 15-16 September 2022
Register
An ever widening array of research disciplines require access to plant specimens preserved in herbaria, because they provide data calibrated in absolute time. In an era when land use and the global climate rapidly change, technological innovations, such as ancient DNA sequencing and digital specimens, are opening new avenues for timely research, leveraging the specimens that were accumulated over more than four centuries of plant collecting.
This year, 2022, marks the 400th anniversary of one of the first regional floras, published by Caspar Bauhin (1560-1624) based on his herbarium that survives until today. To celebrate the deep history of plant collections, and to explore the cutting edge of herbarium-based research, we are organizing a two-day international symposium in Basel, Switzerland, in honor of Caspar Bauhin: "400 Years of Botanical Collections – Implications for Present-Day Research".
2 keynote lectures,
22 contributed talks,
31 posters,
workshopf & discussion,
public lecture
The symposium provides the platform to highlight the ever expanding uses of herbarium specimens, and to stimulate new synergies. The program transcends traditional boundaries between scientific fields, and includes contributions from the natural sciences to history.
• Key note lectures
Richard B. Primack, Boston University, USA: "Mobilizing herbarium specimens, botanical gardens, historical data sets and citizen science observations to investigate the biological effects of climate change";
Hernán A. Burbano, Department of Genetics, Evolution and Environment, University College London, UK: "A retrospective view on plant genetic diversity using ancient DNA"
• Scientific committee
Tinde van Andel, Clusius Professor History of botany and gardens, Leiden University and Naturalis, NL; Freek T. Bakker, Professor of Molecular Systematics, Wageningen University, NL; Mark Carine PhD, Principal Curator in Charge, Botanical Collections, Natural History Museum London, UK; Stefan Eggenberg PhD, Head National Data and Information Center on the Swiss Flora (InfoFlora), Bern; Jason Grant, Professor of Biology and Director of the Herbarium, University of Neuchatel; Flavio Häner PhD, Historian of Science and Collections, Cultural Property Protection Expert, Basel; Ansgar Kahmen, Professor of Botany, Director Botanical Garden and Herbarium, University of Basel; Gudrun Kadereit, Professor of Systematics, Biodiversity and Evolution of Plants, Head Botanical Garden and Herbarium, University of München, DE; Austin Mast, Professor of Biology and Director of the Godfrey Herbarium, Florida State University Tallahassee, USA; Reto Nyffeler PhD, Curator of Phanerogams, University of Zurich; Richard B. Primack, Professor of Biology, Boston University, USA; Michelle Price, Professor of Plant Systematics and Biodiversity, University of Geneva; Head of Science and Head of the Cryptogamic Herbarium, Conservatory and Botanical Garden of Geneva, Vice-Chair of the Consortium of European Taxonomic Facilities (CETAF); Verena Schünemann, Professor of Paleogenetics, University of Zurich & University of Vienna; Yvonne Willi, Professor of Ecology, University of Basel
• Organizing committee
Jurriaan de Vos, Herbaria Basel, University of Basel
Jürg Stöcklin, Basel Botanical Society
Sylvia Martinez, Dept of Environmental Sciences, University of Basel
• Website with full program
https://bauhin2022.ch
• Register online, https://herbarium.unibas.ch/en/bauhin2022/registration/