Wheat Resistance Gene also Protects Corn and Barley against Fungal Disease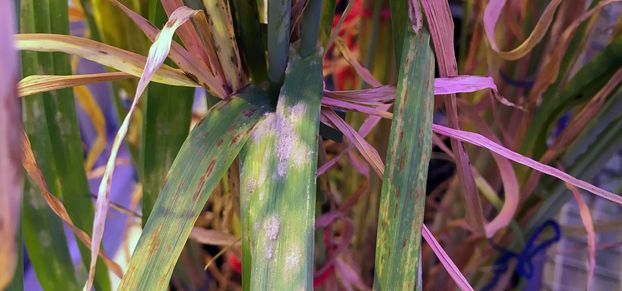 Plant researchers at the University of Zurich have developed transgenic corn and barley lines with improved resistance against several fungal diseases thanks to the wheat resistance gene Lr34. Following successful tests in the greenhouse, the researchers are now planning to carry out field trials at the Agroscope research site in Zurich-Reckenholz.
The group of Beat Keller, SPSW member and professor at the Department of Plant and Microbial Biology at the University of Zurich (UZH), has been researching the immune system of wheat varieties – with which the plant fends off pests and disease – for many years. Their goal is to better understand the complex interactions between plants and pathogens. At the same time, the more resilient lines can be used in plant breeding to help prevent large-scale loss of crop as a result of fungal diseases.
Field trials planned in Reckenholz
Hundreds of resistance genes that provide wheat varieties with protection against fungal pathogens are already known. One of these genes – the wheat resistance gene Lr34 identified by Keller and his team – is characterized by a long-lasting, partial effect against several fungal species. The UZH researchers want to find out whether this particular resistance gene also works when it comes to protecting corn and barley. Tests in the laboratory and in the greenhouse have shown that corn and barley lines genetically modified with Lr34 are indeed better protected against several fungal diseases. "We now want to verify the effect in the field and have submitted a request to the Federal Office for the Environment to carry out a field trial at the Agroscope site in Zurich-Reckenholz," says Teresa Koller, who leads the planned field trials. They are planned from spring 2019 to autumn 2023.
Source
UZH Media News
Approval procedure
In December 2018, the University of Zurich submitted applications to the Federal Office for the Environment (FOEN) for approval of their experimental releases. Once the applications have been published in the Federal Gazette, a deadline will be set for comments. The FOEN will examine the applications as well as the comments and is expected to decide by spring 2019 whether to approve the experiments. The field trials are planned for a maximum of five years until autumn 2023.

FOEN website on experimental releases of GMO
Reference literature
Boni, R., Chauhan, H., Hensel, G., Roulin, A., Sucher, J., Kumlehn, J., Brunner, S., Krattinger, S.G. and Keller, B. Pathogen-inducible Ta -Lr34res expression in heterologous barley confers disease resistance without negative pleiotropic effects. Plant Biotechnol. J. 11 July 2017. DOI: 10.1111/pbi.12765
Sucher, J., Boni, R., Yang, P., Rogowsky, P., Büchner, H., Kastner, C., Kumlehn, J., Krattinger, S.G. and Keller, B. The durable wheat disease resistance gene Lr34 confers common rust and northern corn leaf blight resistance in maize. Plant Biotechnol. J. 13 October 2016. DOI: 10.1111/pbi.12647
Risk, J.M., Selter, L.L., Chauhan, H., et al. The wheat Lr34 gene provides resistance against multiple fungal pathogens in barley. Plant Biotechnol. J. 28 May 2013. DOI: 10.1111/pbi.12077