Quantitative Biology, PhD Program at Lausanne University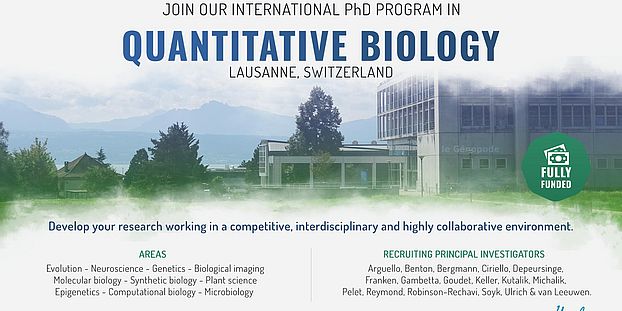 15 Fully funded PhD studentships in Quantitative Biology

The advent of large-throughput data is transforming life sciences into an increasingly quantitative discipline. The University of Lausanne (Switzerland) is at the forefront of this revolution, with quantitative research ramping up throughout the Faculty of Biology and Medicine, a dedicated department of Computational Biology, and interdisciplinary units such as the Center for Integrative Genomics. UNIL also hosts the headquarters of the Swiss Institute of Bioinformatics, to which many quantitative research groups are affiliated, and closely collaborates with EPFL on the same campus. Ideally situated along the lake of Geneva, near Lausanne's city center, UNIL brings together over 120 nationalities.

UNIL's Faculty of Biology and Medicine has a recently launched a doctoral programme entitled "Quantitative Biology". A wide range of research groups are recruiting PhD students, covering areas as diverse as evolution, synthetic biology, plant science, cancer genomics, microbiology, molecular biology, neuroscience, biological imaging, and computational biology.

Hiring principal investigators include Roman Arguello, Richard Benton, Sven Bergmann, Giovanni Ciriello, Adrien Depeursinge, Paul Franken, Maria-Cristina Gambetta, Jerome Goudet, Laurent Keller, Zoltan Kutalik, Liliane Michalik, Serge Pelet, Alexandre Reymond, Marc Robinson-Rechavi, Sebastian Soyk, Yuko Ulrich & Jolanda van Leeuwen.