Linking virus outbreaks to impacted ecosystems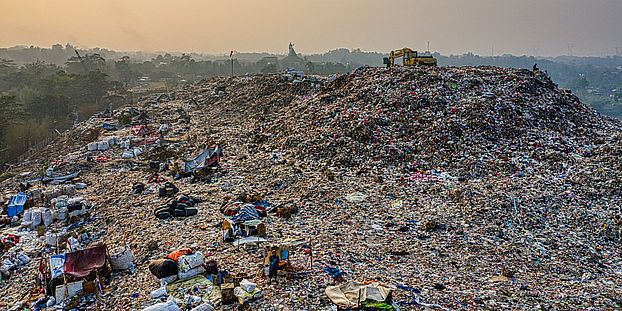 La prochaine pandémie est prévisible, il est temps de prendre au sérieux la crise écologique.

In a collective effort scientists in Switzerland address the public and decision makers. These researchers are linking depleted ecosystems caused by human interventions to an increase of new virus outbreaks that in return is impacting society.
Industrial agriculture and livestock farming are globally expanding at unprecedented speed. It is weakening cattle and crop plants. The expansion is rapidly destroying natural ecosystems such as tropical forests and it has resulted in a fragmented landscape. This is disrupting the food chain of wildlife and it changes their behaviour. Wildlife is being pushed to use resources created by humans and thus increases the transmission of pathogens such as viruses to domestic animals and people.
For the survival of our species we need different decisions, closely linked to the conservation of natural environments. The knowledge of what needs to be done is available to the public and decision makers in the assessments elaborated by IPBES (Intergovernmental Science-Policy Platform on Biodiversity and Ecosystem Services, https://ipbes.net/).
On May 5th an article appeared in the Swiss newspaper Le Temps (in French).
Les signataires (par ordre alphabétique):
(links lead to members of the Swiss Plant Science Web)

Prof. Alexandre Aebi (UNINE), Prof. Jake Alexander (ETHZ), Prof. Raphaël Arlettaz (UNIBE), Prof. Sven Bacher (UNIFR), Prof. Andrew Barry (EPFL), Prof. Jordi Bascompte (UZH), Prof. Tom Battin (EPFL), Prof. Alexis Berne (EPFL), Prof. Rizlan Bernier-Latmani (EPFL), Prof. Cleo Bertelsmeier (UNIL), Prof. Louis-Félix Bersier (UNIFR), Prof. Marie Besse (UNIGE), Prof. Wolf Blanckenhorn (UZH), Dr Kurt Bollmann (WSL), Dr Med. Riccardo Bondolfi, Dr Florian Breider (EPFL), Dr Jakob Brodersen (EAWAG), Prof. Alexandre Buttler (EPFL), Prof. Marc Chesney (UZH), Dr Nathalie Chèvre (UNIL), Prof. Philippe Christe (UNIL), Prof. Sandra Citi (UNIGE), Prof. Elena Conti (UZH), Dr Daynah Payne (UNIBE-GMBA), Dr Luiz F. De Alencastro (EPFL), Prof. Jacques Dubochet (UNIL), Prof. Peter Duelli (WSL), Dr Andreas Fliessbach (FIBL), Prof. Marion Fresia (UNINE), Dr Luca Fumagalli (UNIL), Prof. Blaise Genton (Unisanté), Prof. Jaboury Ghazoul (ETHZ), Dr. Christophe Giobellina (HUG), Prof. Adrienne Grêt-Regamey (ETHZ), Prof. Charlotte Grossiord (EPFL-WSL), Prof. Benoît Guery (CHUV), Dr Thomas Guillaume (Agroscope), Prof. Antoine Guisan (UNIL), Dr Philippe Hauser (CHUV), Prof. Janet Hering (EAWAG-EPFL-ETHZ), Dr Felix Herzog (Agroscope), Dr Angelika Hilbeck (ETHZ), Prof. Christof Holliger (EPFL), Dr Marcel Hunziker (WSL), Prof. Bastiaan Ibelings (UNIGE), Dr Mauro Jermini (Agroscope), Prof. Vincent Kaufmann (EPFL), Prof. Laurent Keller (UNIL), Prof. James Kirchner (ETHZ), Prof. Christian Klug (UZH), Prof. Tamar Kohn (EPFL), PD Dr Eva Knop (Agroscope), Prof. Jacob Koella (UNINE), Prof. Barbara König (UZH), Dr Maike Krauss (FIBL), Prof. Michael Krützen (UZH), Prof. Anna Liisa Laine (UZH), Prof. François Lefort (HEPIA), Prof. Anthony Lehmann (UNIGE), Prof. Laurent Lehmann (UNIL), Prof. Michael Lehning (WSL-EPFL), Prof. Peter Linder (UZH), Dr Jean-Luc Loizeau (UNIGE), Dr Josep Oriol Manuel (CHUV), Dr Pierre Mariotte (Agroscope), Dr Oliver Martin (ETHZ), Dr Blake Matthews (EAWAG), Prof. Michel Mayor (UNIGE), Prof. Anders Meibom (EPFL), Prof. Peter Messerli (UNIBE), Prof. Pascal Meylan (UNIL), Prof. Edward Mitchell (UNINE), Dr Marco Moretti (WSL), Prof. Heinz Müller-Schärer (UNIFR), Prof. Athanasios Nenes (EPFL), Prof. Pascal Niklaus (UZH), Dr Martin Obrist (WSL), Prof. John Pannell (UNIL), Prof. Christian Parisod (UNIBE), Prof. Raffaele Peduzzi (UNIGE), Dr Sandro Peduzzi (UNIGE), Prof. Loïc Pellissier (ETHZ-WSL), Prof. Owen Petchey (UZH), Dr Bertrand Piccard (Fondation Solar Impulse), Dr Francesco Pomati (EAWAG), Prof. Jérôme Pugin (HUG), Prof. Sergio Rasmann (UNINE), Prof. Andrea Rinaldo (EPFL), PD Dr Anita Risch (WSL), Prof. Marc Robinson-Rechavi (UNIL), Prof. Alexandre Roulin (UNIL), Prof. Walter Salzburger (UNIBAS), Prof. Marcelo R. Sanchez-Villagra (UZH), Prof. Ian Sanders (UNIL), Prof. Maria J. Santos (UZH), Prof. Michael Schaepman (UZH.World Biodiv. Forum), Prof. Gabriela Schaepman-Strub (UZH), Prof. Florian P. Schiestl (UZH), Prof. em. Bernhard Schmid (UZH), Prof. Knut Schmidtke (FIBL), Prof. Christian Schöb (ETHZ), Prof. Rainer Schulin (ETHZ), Dr Martin Schütz (WSL), Prof. Tanja Schwander (UNIL), Prof. Ole Seehausen (UNIBE-EAWAG), Prof. Irmi Seidl (UZH-WSL), Prof. Sonia I. Seneviratne (ETHZ), Prof. David Shore (UNIGE), Prof. Vera Slaveykova (UNIGE), Dr Eva Spehn (SCNAT), Prof. Konrad Steffen (WSL-ETHZ-EPFL), Dr Serge Stoll (UNIGE), Dr Lucius Tamm (FIBL), Prof. Joseph Tarradellas (EPFL), Dr Josh Van Buskirk (UZH), Prof. Marcel Van Der Heijden (Agroscope/UZH), Prof. Erica Van De Waal (UNIL), Prof. Urs Von Gunten (EPFL-EAWAG), Dr Jean-pierre Vermes (CentroMedico TI), Dr Pascal Vittoz (UNIL), Ing. Agr. Gaby Volkart (Ateliernature), Prof. Gretchen Walters (UNIL), Prof. Alex Widmer (ETHZ), Prof. Walter Wildi (UNIGE), Prof. Yvonne Willi (UNIBAS), Dr Sonia Wipf (CH Nat. Park), Prof. Niklaus ZIMMERMAN (WSL/ETHZ)
Declaration (in French, German and Italian)
Listen  to a Swiss radio broadcast (in German), srf.ch. SRF 4 News aktuell vom 12. Mai 2020
Pandemien und ihre Auslöser, Forscher warnen vor neuen Viren, die von Tieren auf Menschen überspringen könnten
Article in the French journal La Libération that served as a trigger to illustrate the findings to the public in Switzerland:  https://www.liberation.fr/debats/2020/04/08/la-prochaine-pandemie-est-previsible-rompons-avec-le-deni-de-la-crise-ecologique_1784471
Link: La déclaration des écologues (chercheurs scientifiques en écologie) et tous les signataires: https://www.petitions.fr/la_prochaine_pandemie_est_previsible_rompons_avec_le_deni_de_la_crise_ecologique