CreativeLabZ: online Kurse für Kinder, täglich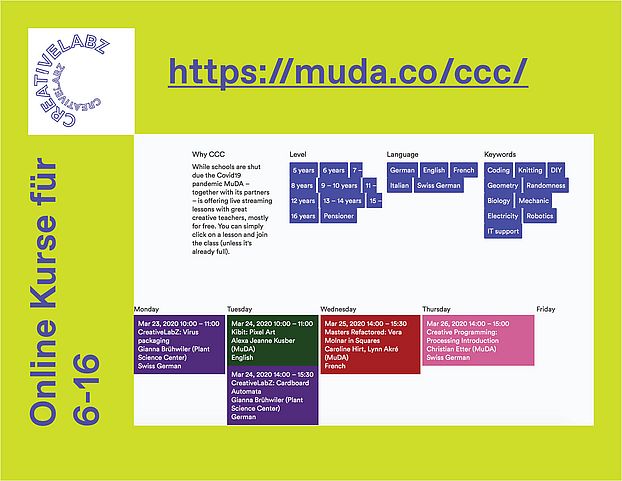 Creative Classes

CreativeLabZ und das Museum MuDA haben die aktuelle Situation zum Anlass genommen, im Schnelltempo Onlinekurse zu entwickeln, um Alternativen für die schulfreien Tage zu bieten.
Das Angebot richtet sich an Kinder und Jugendliche zwischen 6 und 16 Jahren. Es gibt auch Kurse für Erwachsene.

Die Anmeldung erfolgt online. Teilnehmer*innen erhalten ein Starter-Kit per Post zugestellt.

https://www.plantsciences.uzh.ch/de/outreach/creativelabz.html
Liste aller online/streaming Kurse & Registrierung: https://muda.co/ccc/
A small team, which was no longer tied to day-to-day operations, has been building a new online platform called "Corona Creative Classes" for distance learning.
The center of this digital school is a virtual timetable, which can be found at muda.co/ccc, on which all subjects can be filtered according to criteria.
The offer is available in all national languages ​​and English. The teachers range from 11-year-old Lynn - who offers a reinterpretation of a picture of her favorite artist in a handicraft lesson - to the co-director of the museum, who offers retirees support in setting up their email account. There are lessons from the Zurich-Basel Plant Science Center (CreativeLabZ), in which children learn about the structure of viruses using paper. The program is broad, but focuses on the creative brain regions.
The small Museum of Digital Art in Zurich explores, through the beauty of code, the connections between algorithms, data and society, https://muda.co/zurich/